Concrete Sawing & Cutting
We offer a wide range of concrete sawing and cutting services for both commercial and domestic application including:
Hand Sawing
Ring Sawing
Road Sawing
Wire Sawing
Wall Sawing
Demolition Concrete Cutting
Expansion Joint Cutting
Hand Sawing is run hydraulically or petrol powered. Hand saws are typically used when there is limited access for larger machinery in confined spaces.
They are used for a wide range of tasks including, cutting out windows and doorways, cutting pits down, cutting asphalt and concrete. they will cut to a depth of up to 150mm deep.
The Ring Saw is a portable hand-held saw which cuts to a depth of up to 270mm deep.
A Ring Saw can be run hydraulically for indoor use, or petrol powered for outside use. We have each available for any project requirement.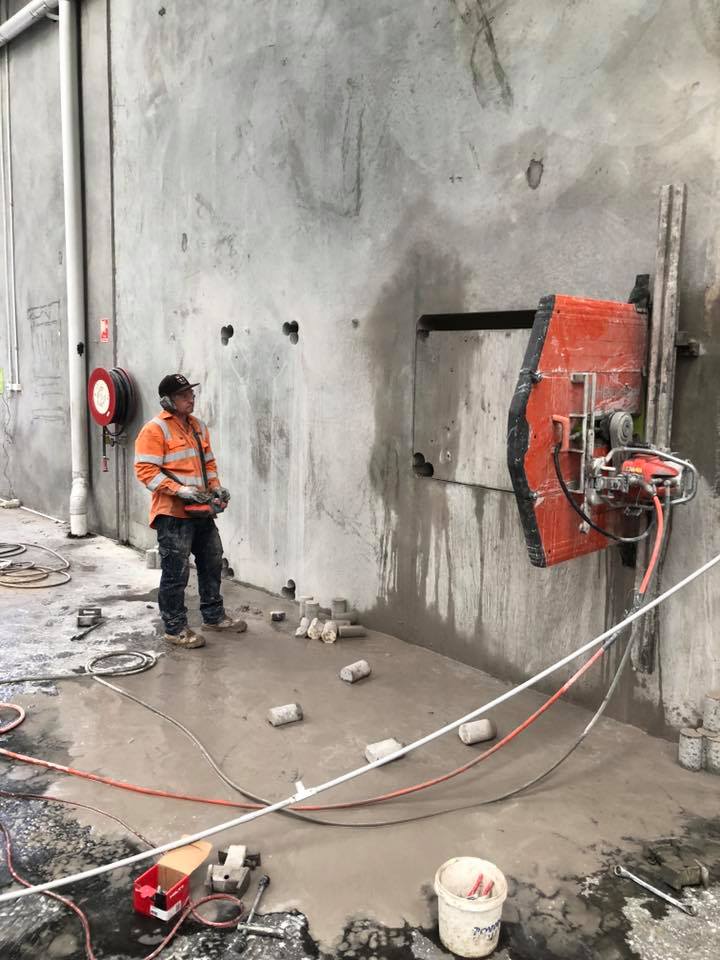 A Road Saw is designed for cutting flat concrete, reinforced concrete or asphalt smoothly & safely with ease. It is typically used for expansion joints, bridge decks, kerb and channel removal, damaged concrete or asphalt for demolition.
Road Sawing features a diamond blade that is cooled with a water bath to minimize dust and is mounted on a walk-behind machine. We are able to cut up to depths of 600mm or deeper by request.
Road Sawing is extremely useful in speeding up the removal process and cuts are extremely precise. We are equipped with diesel powered Road saws for outside work and electric powered Road saws for inside work.
The Wire Saw is extremely versatile and can cut any depth required. These saws are most commonly used when portable handheld equipment cannot be utilized and the concrete is heavily reinforced for example bridge parapets, bridge beams and penetrations.
Wire and Wall Sawing machinery provides an effective means for cutting door and window openings. The track and pullies which can be mounted on vertical walls or steep inclines is designed to cut precise dimensional openings to a depth of 700mm.
This is generally performed with a roadsaw or (flatsaw) or a dry soft cutter, most circumstances this is a 25mm – 30mm deep cut usually done the next day as a measure to prevent cracks in the finished surface of freshly poured concrete.